IBM VersaStack

Converged infrastructure solution, jointly developed by IBM and Cisco, delivers extraordinary efficiency, performance and economics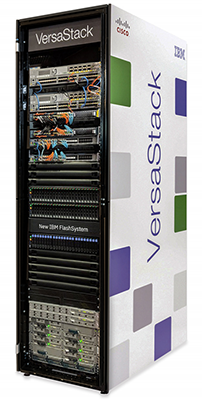 IBM VersaStack
Contact us for Pricing!

Get a Quote
VersaStack for Hybrid Cloud
VersaStack with IBM FlashSystem V9000
VersaStack with IBM SAN Volume Controller
VersaStack with IBM Storwize V7000
VersaStack with IBM Storwize V5000
Click here to jump to more pricing!
Overview:
VersaStack™ solutions combine a comprehensive set of converged infrastructure and software-defined technologies from IBM and Cisco to help organizations accelerate digital transformation. The VersaStack portfolio addresses the latest in IT trends, such as data center modernization, hybrid multicloud and software-defined storage. Jointly developed by IBM and Cisco, VersaStack solutions help transform and modernize the data center through a comprehensive portfolio that delivers IT at the speed of business.
Simplicity of converged server, storage and networking
Streamline operations and increase productivity
Help recoup upfront investments with lower TCO
Ideal for hybrid cloud, cognitive and virtualized workloads
All-flash or hybrid storage solutions with Cisco UCS
Converged infrastructure solution delivering IT simplicity and quick time to value
VersaStack is a converged infrastructure solution of network, compute and storage designed for quick deployment and rapid time to value. The solution includes Cisco UCS integrated infrastructure together with IBM software-defined storage solutions to deliver extraordinary levels of agility and efficiency. VersaStack is backed by Cisco Validated Designs and IBM Redbooks application guides for faster infrastructure delivery as well as workload/application deployment.
Designed for dynamic organizations that want to accelerate business growth while reducing costs, VersaStack incorporates IBM all-flash as well as hybrid storage technologies into the "single pane of glass" management environment provided by Cisco UCS Director. The solution offers quick deployment and execution of business applications—with the versatility to adapt as business priorities change. Providing an IT infrastructure that is easy, efficient and versatile, VersaStack helps accelerate data center infrastructure deployment and helps efficiently manage information and resources amid business change.
VersaStack integrates network, compute and storage. On the network and compute side, VersaStack solutions leverage the power of Cisco UCS integrated infrastructure, including the cutting-edge Cisco UCS and the consolidated Cisco UCS Director management interface delivering simple, integrated management. On the storage side, IBM offers storage solutions for VersaStack based on IBM Spectrum Virtualize technologies.
IBM Spectrum Virtualize-based storage solutions deliver virtualization capabilities such as storage pooling and support for over 500 different storage systems from wide variety of vendors. They also feature IBM Easy Tier automated tiering, IBM Real-time Compression—enabling data storing up to five times as much data for even the most demanding applications—and data security with encryption for all pooled storage. IBM software and storage solutions deliver a broad spectrum of options that can be sized appropriately to customers' requirements.
All of the IBM storage options for VersaStack are built with IBM Spectrum Storage software, which means that deploying IBM FlashSystem arrays in VersaStack opens the door to the entire IBM Spectrum Storage Suite.
These solutions are already proven to work together in the most demanding mission-critical environments. IBM Spectrum Storage with Cisco UCS helps improve efficiency and leverage existing server resources while delivering a rich set of storage capabilities.
VersaStack can be implemented with Cisco Application Centric Infrastructure (Cisco ACI) to enhance business agility by allowing IT to build, deploy, secure and maintain applications through a more agile framework. This capability, combined with Cisco Intercloud Fabric, can enable the creation of open and secure hybrid cloud-ready solutions that accelerate IT agility while delivering dramatic improvements in deployment, operation efficiency and simplicity.
Why IBM and Cisco?
IBM and Cisco are global IT industry leaders. Together, the companies have a 15-year history of demonstrated joint success with more than 25,000 shared customers. IBM and Cisco have experience in driving emerging technology transitions and have the breadth and ability to deliver innovative, validated solutions while helping customers reduce risk.
The companies provide global delivery capabilities and deep industry expertise along with current technology offerings in data center computing, networking, mobility, collaboration, analytics and the Internet of Things.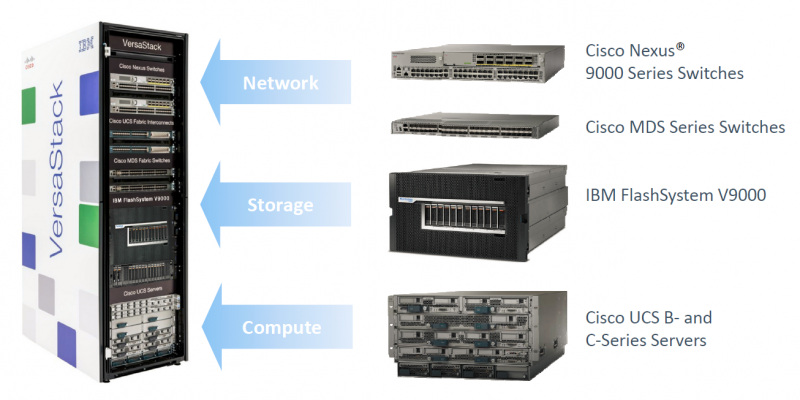 Features:
Industry leadership
IBM and Cisco boast a 15+ year history of demonstrated joint success with more than 25,000 shared customers.
Public, private & hybrid multicloud enabled
VersaStack for Hybrid Multicloud delivers versatile infrastructure that can be extended to public cloud. IBM Spectrum Virtualize for Public Cloud in conjunction with VersaStack - through native storage replication between on-prem VersaStack and IBM Cloud or Amazon AWS - delivers disaster recovery and supports workload migration. VersaStack for Private Cloud, with IBM Cloud Paks, supports traditional and emerging cloud native applications, for extensive IT automation and cloud-like versatility.
Accelerate business applications
Acclerate the performance of your entire data center or deploy solutions to support specific high-performance applications, with VersaStack, a flash-memory based and NVMe-accelerated solution that can help you create a cost-effective cloud enabled data center infrastructure. Gain faster application performance and near-real-time insights to inform operational decisions.
Comprehensive storage options
All-flash and hybrid data storage options address growing capacity needs – from departmental to large-scale deployments – while IBM SAN Volume Controller (SVC) helps you optimize existing storage solutions. Add IBM Spectrum Scale™ to support block, file and object data under one industrial-strength management regime.
Secure, single point of control for storage resources
Pool the storage capacity of IBM and non-IBM storage systems on a storage area network (SAN), better manage tiered data, and encrypt all virtualized data for enhanced security from a single point.
IBM Storage Utility Offering
Get the ultimate in flexibility. This new way to procure data capacity provides instant-on access that aligns capacity costs with your business initiatives. It's unique because it helps you predict your monthly data capacity needs. And, you only pay for the capacity you use monthly, instead of a large up-front expense. No need to over purchase or lease large amounts of capacity for "just in case" needs. Simply use the capacity your business requires and this offering will take care of the rest.
Enable storage efficiencies
IBM data reduction, featuring IBM Real-time Compression™, helps increase storage capacity and lower floor-space, power and cooling requirements. IBM Easy Tier helps balance performance and IT costs in a tiered storage environment.
Simple scalability
Easily and cost-effectively deliver dynamic resource allocation from pooled compute, network and storage resources, whether on-premises or in the cloud. This allows a reduction in design, deployment and management overhead.
Dynamic data movement
Move data across devices, on premises or cloud services, and better manage and scale storage capacity without disrupting application performance or data availability.
Pre-validated solutions
Backed by Cisco Validated Designs and IBM® Redbooks® application guides, VersaStack reduces risk with pre-validated, cost-effective, high-performance solutions. Speed deployment and delivery of applications, while increasing infrastructure efficiency with less risk.
Benefits:
Modernize your data center
Drive data center efficiency, optimization, and performance through VersaStack Solutions to deliver autonomous data center operations, while lowering CAPEX, OPEX and TCO.
Deliver versatile environments
Powerful VersaStack™ solutions allow for dynamic resource allocation from pooled compute, network and storage resources, whether on-premises or in the cloud, with a faster time to deployment.
Enable public and private cloud
Support hybrid and IT as a Service through VersaStack for Hybrid Multicloud to enable on-premises, private cloud, and public cloud deployments.
IBM Storage:
IBM Spectrum Virtualize
IBM Spectrum Virtualize™, industry-leading storage virtualization software, is the foundation of IBM disk and allflash storage systems. It provides software-defined storage capabilities across a variety of platforms, including IBM Storwize V7000 (Unified), Storwize V5000, and FlashSystem V9000. These capabilities can help your IT staff improve efficiency and utilization while reducing complexity and cost.
All IBM and external third-party storage is virtualized, improving the use of storage capacity. Your storage devices can be organized into storage pools—and your standard, compressed, and thin-provisioned virtual volumes are created with the storage characteristics needed by your applications and workloads. As a result, your IT organization can tap into new and previously unused disk storage capacity and further optimize available storage capacity with thin-provisioning techniques.
IBM Spectrum Virtualize™, industry-leading storage virtualization software, is the foundation of IBM disk and allflash storage systems. It provides software-defined storage capabilities across a variety of platforms, including IBM Storwize V7000 (Unified), Storwize V5000, and FlashSystem V9000. These capabilities can help your IT staff improve efficiency and utilization while reducing complexity and cost.
IBM Storwize V5000
IBM Storwize V5000 is a hybrid system that uses solidstate disk (SSD) drives and hard-disk drives (HDDs) to deliver software-defined storage capabilities for midsize businesses. The system can scale up to 480 drives, and up to 960 drives with two-way clustered systems, and it can store up to 1.92 petabytes (PB) per system, and up to 3.84 PB with two-way clustered systems. This system offers:
Innovative Spectrum Virtualize functions, including dual-clustering for simple scaling, thin provisioning, and external virtualization for higher storage utilization
An optional IBM FlashCopy function that lets your IT staff create an almost-instant copy of active data, which can be used for backup purposes or for parallel-processing activities
An IBM HyperSwap function that lets a single Storwize V5000 system support servers in two data centers, with concurrent data access; when combined with VMware vMotion, this configuration enables nondisruptive storage and virtual machine mobility between two data centers.
IBM Storwize V7000 Family
IBM Storwize V7000 and V7000 Unified are powerful hybrid disk storage systems that can support the massive volumes of data created by your demanding cloud, social, mobile, and data center applications. Built with Spectrum Virtualize, these Storwize systems are designed to be efficient, easy to use, and dependable no matter the size of your deployment. This efficient, enterprise-class storage system provides a 2-rack-unit (2RU) chassis and supports up to 96 terabytes (TB) of physical storage per enclosure using 8-TB nearline SAS disk drives. A control enclosure supports the attachment of up to 20 expansion enclosures with configurations of up to 504 drives and approximately 2 PB of physical storage capacity (up to 1056 drives and 7.87 PB in clustered systems). Encryption capabilities help protect data at rest.
The system is versatile and can use SAS disk drives, nearline SAS disk drives, and flash drives. It includes technologies that enhance physical, virtual, and cloud environments, with built-in software-defined functions such as industry-leading virtualization, hardware-assisted realtime compression, analytics-based dynamic data tiering, and support for near-instant data copies for backups and application testing. In addition, the system can be clustered to support growing business needs while controlling costs.
IBM FlashSystem V9000
IBM FlashSystem V9000 is an all-flash enterprise storage solution with scalable performance, agile integration, and enduring economics. Built with IBM Spectrum Virtualize functions, FlashSystem V9000 combines the performance of the FlashSystem architecture with the advanced functions of software-defined storage, including IBM Real-time Compression, dynamic tiering, thin provisioning, snapshots, cloning, replication, data copy services, and high-availability configurations.
Designed as Tier 1 storage with impressive economic value, this all-flash-memory array delivers ultra-low (microsecond) response times through the use of IBM MicroLatency technology. The system accelerates I/O for critical applications through IBM FlashCore technology, which includes advanced flash-memory management features, ultra-fast write buffers, and hardware-based data offload methods, while preserving enterprise resiliency through IBM Variable Stripe RAID and other unique reliability features. You can extend the capabilities of the solution to virtualized external storage capacity, managing up to 32 PB of external storage. Fully redundant, hot-swappable components, multiple RAID layers, XTS and Advanced Encryption Standard (AES) 256 encryption, and concurrent code upgrades help increase system uptime and data availability
Complementary IBM Storage Software
IBM Spectrum Control Storage Insights
Complementing Cisco UCS Director, IBM Spectrum Control Storage Insights adds data and storage optimization capabilities to VersaStack solutions. Delivered as a service from the IBM cloud, the software can be deployed in minutes to deliver multisystem storage performance troubleshooting features. Your IT staff can use predictive analytics to help keep data on optimal storage tiers, improve capacity planning with recommendations for reclamation opportunities, and create application and department views of storage.
IBM Spectrum Protect
IBM Spectrum Protect™ provides comprehensive data protection for VersaStack environments. With this optional software, your IT staff can use a VMware vCenter management interface and provide a self-service portal. With near-instant restore operations, integrated offsite replication, and the capability to use application-aware snapshots, your organization can benefit from scalable efficiency that is delivered entirely in software, reducing backup infrastructure costs by up to 53 percent.
Specifications:
VersaStack for Hybrid Cloud
Component
Network
Cisco Nexus
Cisco MDS
Compute
Cisco ONE™ Enterprise Cloud Suite:

Cisco CloudCenter
Cisco UCS Director
Cisco ACI

Storage
IBM FlashSystem V9000
IBM FlashSystem A9000
IBM FlashSystem 900
IBM Storwize V7000
IBM Storwize V7000F
IBM Storwize V5000 family
VersaStack with IBM FlashSystem V9000
Component
Network
Cisco Nexus
Cisco MDS
Compute
Cisco UCS
VMware ESXi
VMware vCenter
Storage
IBM FlashSystem V9000
IBM FlashSystem 900
VersaStack with IBM SAN Volume Controller
Component
Network
Cisco Nexus
Cisco MDS
Compute
Cisco UCS
VMware ESXi
VMware vCenter
Storage
IBM SAN Volume Controller with any supported storage (IBM or non-IBM)
VersaStack with IBM Storwize V7000
Component
Network
Cisco Nexus
Cisco MDS
Compute
Cisco UCS
VMware ESXi
VMware vCenter
Storage
Storwize V7000F
IBM Storwize V7000
VersaStack with IBM Storwize V5000
Component
Network
Cisco Nexus
Compute
Cisco UCS
VMware ESXi
VMware vCenter
Storage
IBM Storwize V5030F
IBM Storwize V5030
IBM Storwize V5020
IBM Storwize V5010
Pricing Notes:
Pricing and product availability subject to change without notice.
IBM Products
IBM Products
IBM VersaStack
#versastack
Get a Quote!